Michael Mitchell recalls a time when people of his grandmother's generation would change the décor of their homes to match the seasons. When warm weather gave way to cooler temperatures, seagrass rugs would yield to wool and hand-knotted Orientals. Linen slipcovers and drapes would be replaced by heavier fabrics like velvet and damask. Even in a city like Charleston with mild winters, fabrics and textures inside the home always mirrored the climate outside.
"We don't so much do that anymore," said Mitchell, owner and principal designer with Mitchell Hill Interiors at 414 King St. "That was sort of an antiquated trend. I'd love to see it return, but what ends up happening here in Charleston with our winters is, sometimes we have to turn on the air conditioning to use the fireplace."
Indeed, changing interior décor to meet the seasons seems a thing of the past. But that doesn't mean there aren't interior design trends unfolding in the Charleston area this winter, many of them influenced by what the Lowcountry and the world have endured for the past two years. In the wake of the coronavirus pandemic, home isn't just a castle—it's a sanctuary, with residents making changes to maximize the levels of comfort and livability in their homes.
"The gift of the pandemic has been a renewed emphasis on valuing quality time spent with family and friends, treasuring the ability to travel, and creating a sanctuary at home," said Leslie Turner, founder and broker of Charleston's Maison Real Estate. "People are more thoughtful about how they spend their time, and more purposeful in creating a warm and cozy home environment. The pandemic has shown us that many people can work from anywhere, and they have consciously relocated to cities that they love and where they can live the lifestyle that they want. This is a long-term trend that is here to stay."
That movement is reflected in what Charleston residents are demanding of their homes this winter. Living spaces have become bolder, brighter, softer and cozier. Outdoor living spaces have been incorporated into the home itself. Homes offices have evolved from a laptop on a dining room table to dedicated work spaces with a well-thought-out background for video conferences. Every room in the home is being put to use in some way, to maximize the amount of living a house can provide.
"With more people working from home and spending much more time at home since the start of the pandemic, homeowners are tending to put more time and effort into the uses of the spaces in their homes," said Trey Bessent, a Realtor with Realty One Group Coastal in Summerville. "I'm seeing more bold and lighter-hued colors, funky designs and even wallpaper making a comeback—on accent walls, and sometimes in entire rooms."
Rooms that are cozy and colorful
Even once the lockdowns of early 2020 ended, people began spending more time in their homes, and evaluating how they could get more living out of their residences. More and more people continue to work from home, a trend that's unlikely to reverse itself. That's all manifested itself in the interior design many are seeking this winter—in part, to help keep them as comfortable as possible.
That's right: cozy is in. Real estate agents are seeing lots of layering with thick, chunky fabrics that bring warmth to a living area even on a 50-degree Charleston night. "There is an emphasis on texture," Turner said, "everything from soft goods to handmade pottery from artisans, and interesting finishes on furniture." The result is a comfy yet modern aesthetic that perhaps includes sofa pillows and blankets that are handcrafted or made of eco-friendly material.
And while we're at it: color is back, too. The days of all-white everything for Instagram purposes have gone the way of tiny homes. "We are seeing color, color, and more color," said Mary Lou Wertz, a broker and founder of Maison. "I think after spending so much time at home, owners decided it was time to liven things up. Enough of 50 shades of grey! Folks are taking risks, and it is so refreshing."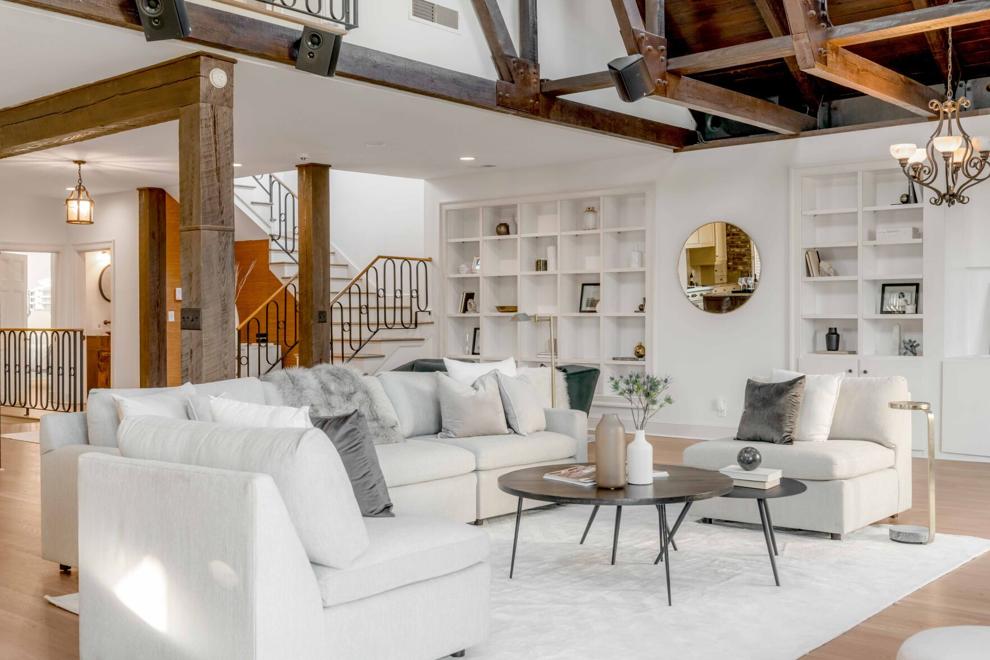 Mitchell sees mustard yellows and rusty browns, colors that are typically identified with fall, now used all throughout the year. And green is everywhere, with three major paint manufacturers naming shades of green as their colors of the year for 2021. Mitchell said the kitchen in his home is painted a deep olive green.
"I've always liked the colors in nature, and green is a big player in that," he said. "I mean, God didn't get it wrong when he made the trees brown and the sky blue and the grass and the leaves green. They're in nature, and I think that any color that's in nature will always be on point."
That enthusiasm for green reflects a renewed interest in incorporating the outdoors into the living environment. Homes have become lush with plants, Mitchell said, and vintage or statement light fixtures help residents better cope with early sunsets and longer nights. And in some cases, indoor and outdoor living spaces have effectively become merged—a movement that in downtown Charleston harkens back to Colonial days when residents created "outdoor rooms" to take advantage of the mild winter weather.
That trend is back, in full force. "Bi-fold doors that 'disappear' are in demand to integrate indoor and outdoor spaces and provide flow for entertaining and seamless living areas," Turner said. "People in Charleston love to create outdoor rooms in their gardens, with some spaces used for entertaining, some for dining, and or some for vegetable gardens."
Replacing dated, bulky sliders with bi-fold doors can make a dining room and covered porch feel like a single entity, particularly in places like Charleston where most lots are flat. Many residents are adding fire pits or outdoor heaters so exterior spaces can be used on even the coldest winter evenings, and landscaping remains a priority. "Exterior spaces, gardens and porches, all of that has become really important on the design end," Mitchell said.
The home office gets serious
The pandemic-fueled desire for increased livability extends from the home's design to its very function. Eating spaces have become far more top of mind given that many people entertain at home rather than go out. Workout spaces are in demand, perhaps because the pandemic turned some off to gyms. Sunrooms have increased in popularity because they allow residents to take advantage of the daylight while still remaining in a temperature-controlled environment.
"Why would we have a room we only go into a couple of times a year?" Mitchell asked, likely echoing the sentiments of many homeowners these days. Mitchell has a client who converted a barely used formal living room area into a lounge full of vinyl record and bourbon bottles, repurposing the space into one far more conducive to entertaining. Oh, and the "open concept" craze popularized by HGTV programs? It's headed the way of the dodo bird.
"The pandemic definitely hastened a move toward more closed-in rooms where family members can have their space from one another," Bessent said. "When I first got into real estate, you could count on everyone saying, 'I want a three-bedroom, two-bath home, preferable with a fenced yard, and open concept.' Now you don't hear open concept as often, and Covid is the reason for that. If you're spending a lot of time at home, and you can always see everyone else in the home, it becomes less and less of a luxury."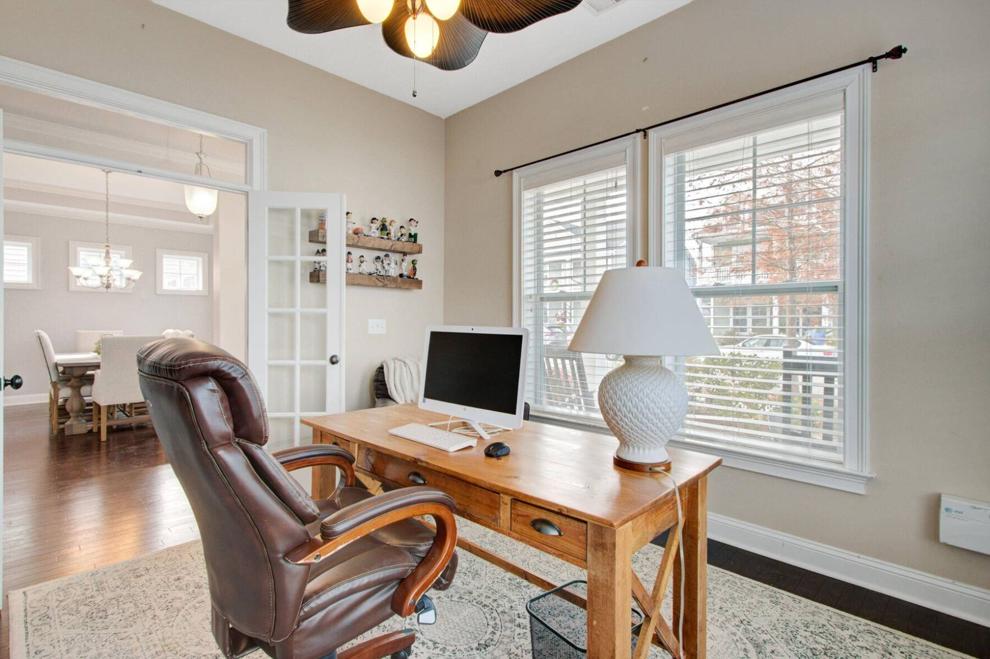 Particularly given that the home has become the new workspace, with so many employees transitioning to working from home—many on a permanent basis. Working from a couch or spare table won't do, not anymore. In Charleston and elsewhere, home offices have gotten serious, with residents making moves toward permanent setups that include all the trappings they'd have in a traditional office environment.
"Most people today want a more professional style office at home, and do not want to set up their desk on the dining room table," Turner said. That means a dedicated space with a real desk and office chair, perhaps accessories like bookcases or filing cabinets, decorated to fit the tastes of the person using it. And with so many people working via video conference, having the right background has become as important as a beefed-up internet connection.
"In the middle of the pandemic, you saw all these news reporters working from home, and you'd see bookcases behind them with all these janky objects falling all over. And we're talking about CNN reporters," Mitchell said. "Right then and there I thought to myself, 'I'm going to get reached out to by people with home offices who are going to be working via Zoom.' I don't want my clients to have all that static behind them, because I find it distracting. And that's watching it on television, let alone being on a Zoom call with that person."
Mitchell prefers a background that's not cluttered, but is narrow and focused—think a print wallpaper, or a solid drapery. But everyone works differently, he acknowledges, even when working from home. "So for us as a design firm, for myself as well as any of the other senior designers who work for me, we ask a lot of questions up front," he said. "I want to know how you're working, what you need, what you're doing and why you need to do it. It's not me being nosy, it's me gathering enough information so I can give you back a home that works for you."
A movement that's built to last
It's not the first time a pandemic has affected a sea change in the way people use and decorate their homes. The 1918 flu outbreak ushered in an era of clothes kept in separate closets rather than dusty armoires, the elimination of carpet and drapes in bathrooms, and the use of easy-to-clean subway tile in bathrooms and kitchens, according to The Washington Post. The Covid pandemic has brought with it an era of increased utilization—if we're going to be in our homes more, then we want the interiors to be pretty and comfortable and better fit our wants and needs.
"It's definitely trending in the direction of making the home to your absolute satisfaction," Bessent said. "That can be fully insulating a garage and adding on a man cave or a she shed, or adding a full-on weight room. And then when it comes to the interior, they're making sure everything is aesthetically pleasing. They're updating kitchens to the nines, making sure they like the floors and the wall colors. I've seen a move toward accent walls as opposed to one static paint color, because people get sick of seeing the same color throughout the house. Since Covid has kind of kept us indoors, people are tending to make everything just as they want it."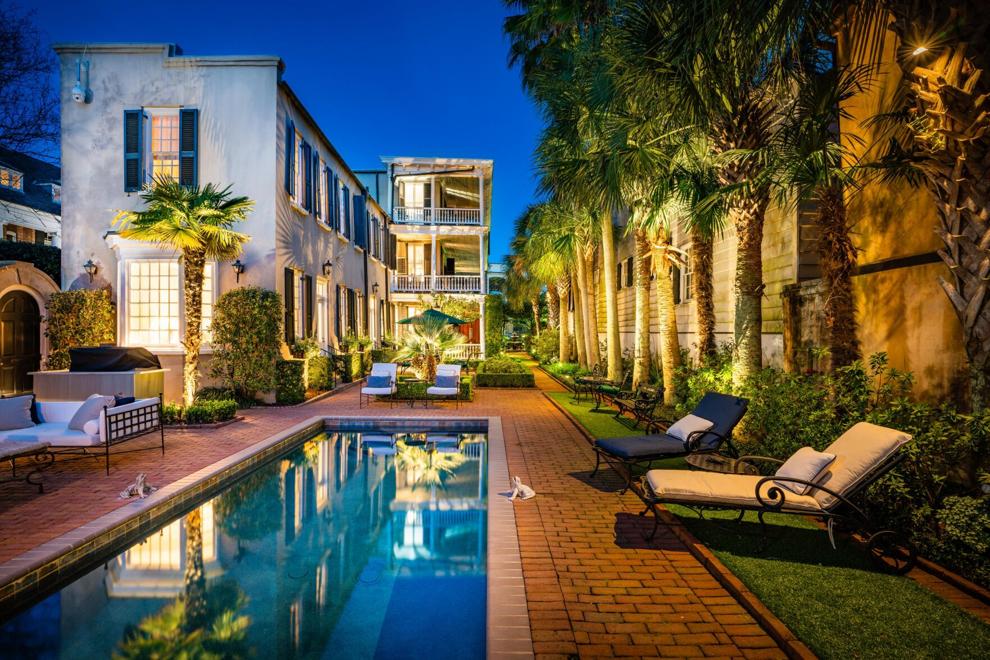 And that movement promises to stay with us for a while. The design trends we're seeing this winter—warm and cozy furnishings, bright colors, serious home offices and seamless indoor-outdoor integration—will almost surely extend into next winter, and the next.
"I have lots clients whose companies have closed their offices because they realize people can work remotely. I think the shift in the way we're living is certainly going to continue. I think that the home office is going to continue, and I hope that in the midst of all of this things like family dinner hour will come back," Mitchell said.
"I think backyards and porches are going continue to be important for the way that we entertain and the way that we live in our house. I think that comfortable, approachable upholstery is going continue to be important so that rooms can function whether you're having a cocktail party or hanging out with your shoes off and reading a book. I want people to use every room in their house, and I've always wanted that. It's the way I've always approached my projects. It's nice to have these big houses, but they don't make any sense if you don't use them. So why not make the rooms more approachable?"